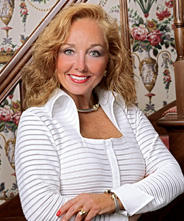 Known and respected for her refined yet comfortable interiors, Valerie McGreevy Tatalovich approaches her projects with passion and dedication creating remarkable interior design. To the sheer delight of her clients, Valerie calls on her exquisite design sense, the finest materials and blends them meticulously on a fearless palette to create gathering spaces that exude a lasting and timeless impression.
After graduating from West Virginia University, Valerie worked in the Interior Design Studio at Kaufmann's department store in Pittsburgh where she received performance awards annually and was the Interior Designer for a relocation project of thirteen families to Pittsburgh from Tokyo. She holds a teaching certificate and has taught Interior Design at the Beaver County Community College. She opened V.M.T. and Associates, her Pennsylvania based design studio in 1987; the Palm Beach location, Valerie M. Interiors, opened in 2004; and Valerie's newest location in Sewickley, PA which opened in 2012.

While specializing in residential interior design, her extensive work experience includes many noteworthy commercial projects such as Oakmont Country Club, Oakmont, PA; the Ronald McDonald House, Pittsburgh, PA and Seagull Cottage in Palm Beach, Florida. Valerie M. Interiors, LLC was awarded the 2010 Design Excellence Award for the Historic Restoration of Seagull Cottage from the ASID Florida Chapter.

Valerie and the staff at Valerie M. Interiors have completed remarkable Interior Design projects throughout the country and the Caribbean from her Pennsylvania and Palm Beach offices.



Valerie stays in tune with the progression of industry standards and has completed GREEN leaders curriculum for the use of sustainable design principles, materials and furnishings. She is a current member of the Pennsylvania West Chapter and Florida South Chapter of the ASID.
Valerie believes that designing is a process not an event... and that the most satisfying designs are those that evolve over time.